Category 5 Prefab House (Photo Gallery)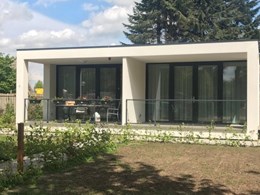 Category 5 Prefab House (Photo Gallery)
Product number: Category 5 (289 km/h +)
Why Choose Us sxmprefab.com
Our CAT5 Prefab Houses are resilient. We have engineered our homes for extreme weather events and natural conditions. Our designs meet and exceed global building codes – particularly wind loads (180 MPH – Florida Building Code HVHZ Approved) and floods (homes rest on point loads – perfect to elevate on piles without the need for beams).
Our CAT5 Prefab Houses are engineered with precision. Our homes are fabricated with accuracy and precision no matter where in the world they are assembled.
Our CAT5 Prefab Houses are sustainabe & energy performance. Our CAT5 Prefab Houses comes with R-45 insulation assembly values as standard for floors, walls and roofs – all from recycled Cellulose treated both with a fire-retardant and a vermin control. All the wood for our Laminated beams comes from FSC & PEFC Certified 15 year cycle forests and the percentage of the tree area used is maximized to 90% of all the milled lumber; this means that our homes sequester CO2 and contribute greatly to the reduction of global greenhouse gas emissions. With With our CAT5 Prefab Houses you can truly achieve NetZero living.
Our CAT5 Prefab Houses can be assembled anywhere. Have a project in mind in a remote location? interested in becoming a assembly line? Our team provides your local area labor with high-tech training and advanced building solutions – this training has a tremendous social value and will have a very positive impact on the local construction industry and building expertise.
Our CAT5 Prefab Houses are designed to last. The combination of materials and finish envelope make a structure extremely low maintenance and long lasting, even when exposed to unforgiving natural conditions. When maintenance is required, the local expertise will guarantee prompt service according to our Quality Control Manual.
Our CAT5 Prefab Houses, offices or cabane can always be relocated. We have pre-engineered this as a standard to all units and the process is quick and simple.